At Better Sage we consider coaching to be a process of accelerated learning. Our approach facilitates environment beneficial to raising awareness, development, reflection and change towards chosen goals, needs and desires. To help you and us to establish language of understanding and identify direction for your development needs more easily we have divided our approach into three distinctive areas of development:
Executive coaching with development focus on YOU & YOUR ORGANISATION
Leadership coaching with development focus on YOU & OTHER PEOPLE
Process Excellence coaching with development focus on YOU & PROCESS
All three types are intertwined and one cannot be isolated from the others as people and processes are interrelated, and so we tailor coaching programmes to your needs.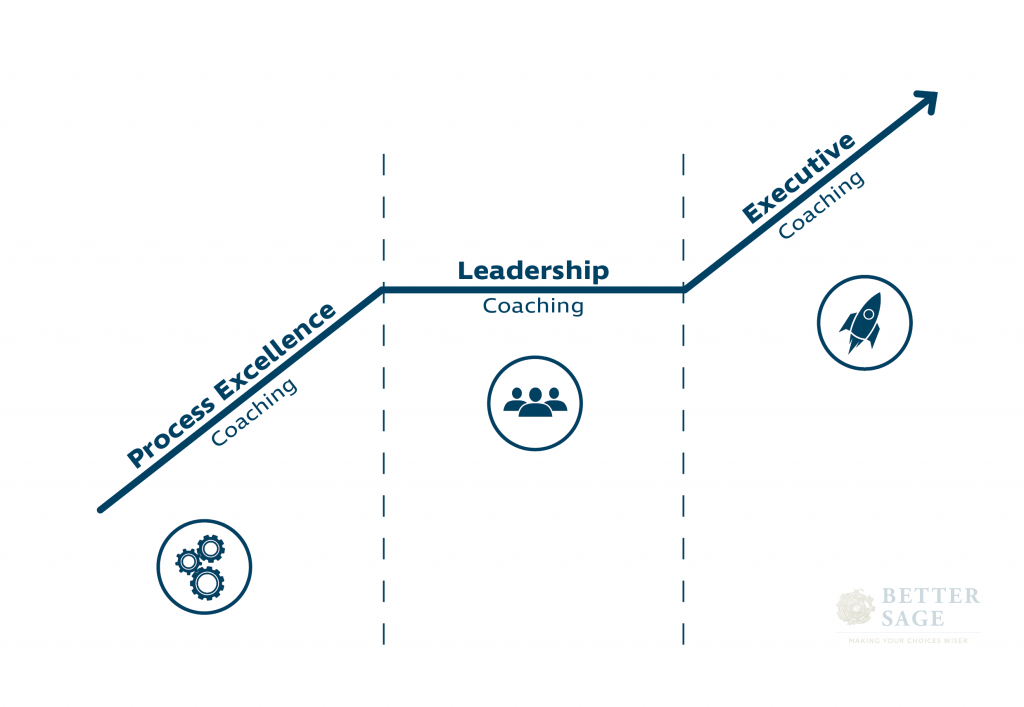 EXECUTIVE COACHING
Development focus: YOU & YOUR ORGANISATION
Modern leaders and executives are expected to steer organisations in environment where people and processes are constantly challenged by each other, as well as the external world. They face continuous pressure to deliver customer values and shareholder expectations, and strengthen social licence to operate.
Executive coaching is best suited to those who aim to enhance their performance as an established leader and further develop their organisation and relationships with internal and external stakeholders. Also leaders who desire a greater personal and professional sustainability may find this direction beneficial.
Typical clients (coachees): C-suite roles, Senior Executives, Directors, Heads of departments, Entrepreneurs.

LEADERSHIP COACHING
Development focus: YOU & OTHER PEOPLE
Sustainable leadership behaviour is a cornerstone of a successful business. There is no doubt that everybody is a leader of some kind and we all try to influence and initiate responses in people, one or many, so that they operate in a direction of shared beliefs and values.
Leadership coaching delivers value to those who seek to build and speed up development of their leadership qualities. Such individuals desire to establish themselves as leaders with a positive feedback from organisation, department or team with regards to their leadership behaviours and future potential.
Typical clients (coachees): People managers and team leaders, emerging talent and rising stars.

PROCESS EXCELLENCE COACHING
Development focus: YOU & PROCESS
Processes are all around us. Some processes appear simple and some of them can be rather complex. Processes represent a point in time and space when all the costly and valuable resources meet and transform into something of an added value to someone (or something). And so working towards process excellence is a highly desirable feature of organisations that wish to operate for the long-term. The need for processes to deliver the right outputs while minimising non-value added aspects is of interest to individuals, organisations and society.
Process Excellence coaching is suitable for clients who are looking for support as individuals and teams involved in delivering process excellence as part of their continuous improvement / lean programme. It is also suitable for freshly trained CI/Lean practitioners to help adopt and embed their learning into workplace, deliver efficiency and benefits, and keep project momentum.
Typical clients (coachees): CI / Lean champions, process leaders and process managers, project managers.